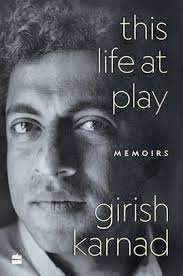 Girish Karnad was a multi faceted personality. As a writer, actor, director on stage and cinema, and as a social activist he made his mark. He was also at the helm of affairs at various organizations and literary conventions.
For many, it was his acting assignments that made the initial introduction, yet there is so much to the man beyond his on-screen presence.Through this book—This life at play: Memoirs—Girish Karnad, delves into his roots, and gives an entertaining and enlightening account of his illustrious and meaningful life. Replete with interesting snippets culled from his vast and varied experience (like that of him learning classical dance during the shooting of Jandhyala directed Telugu film —Ananda Bhairavi—and his spirited encounter with Naseeruddin Shah at Poona Film Institute ), makes the book a very interesting read. The biggest takeaway from the book? To live life on one's own terms and stay committed to one's values, no matter what.
Girish Karnad will be missed for many years to come but this book will surely fill a part of the void, like many other literary works he left behind. And just like a good play or a movie, once you reach the end of "This life at play: Memoirs", you would want more, which unfortunately, isn't possible, with the man gone.
We are sorry that this post was not useful for you!
Let us improve this post!
Tell us how we can improve this post?