If Doordarshan was part of your growing years, most likely you were hooked on the weekly twice telecast program, Chitrahaar—a garland of songs–selected from old and new Hindi movies. This program introduced us to the singer-actor-performer Kishore Kumarji , and we never got bored with fun songs like 'Eena meena Deeka'. Therefore, for a while, we associated his name with these kinds of songs only. The repertoire of songs began to grow substantially, when a cousin of mine, who was a diehard fan of Kishoreji exposed me to a variety of songs. He was well informed and had this knack of giving a background story for most of the songs, and that made me remember these even better. Kishore Kumar the ultimate biography for most parts does something similar, tying in Kishoreji's movies and songs with interesting anecdotes and real life incidents. It is a voluminous effort on the life of Kishore Kumarji and his journey from Khandwa to Bombay. It covers almost all the influential people in his life.
One cannot but appreciate the authors' efforts that spread over a decade in bringing out the book. They have done a commendable job in fleshing out several unheard facts about Kishoreji. Being very knowledgeable about classical music, they throw light on how certain songs were composed and how Kishoreji did an excellent job in delivering them. This even dispels the wrong notions about Kishore's lack of command over classical music.
Here are a few excerpts:
Page:448
"Typical propaganda making rounds then was Kishore Kumar classical jane na (Kishore Kumar does not know classical), as if knowledge of classical music was the yardstick of a singer's capability. People voicing this had little idea that Kishore's fans included classical maestros such as Bhimsen Joshi, A.T. Kannan, Kumar Gandharva and Ajoy Chakrabarty"
Page: 387
"Film-makers were ready to spend rather, splurge. And it was not restricted to Bombay In 1972, composers Rajan-Nagendra travelled from Bangalore and signed Kishore for seven thousand rupees for a song, "Adonat andu from Kulla Agent 000 (1972) remains one of the costliest of its time."
Page: 344
"On the day of the recording, I (Manna dey) was stumped by the proceedings. I was singing from the angle of a singer while Kishore had captured the spirit of the situation. From the heart, he changed the entire complexion of the song. I have thus no hesitation in admitting his genius."
Page: 314
"At the end of the day, one would have to keep guessing what suited Kishore more–singing or composing. It would not be an exaggeration to suggest that 'Door Gagan Ki Chhaon Mein' was Kishore's first step towards musical greatness."
The only thing I felt missing in the book is a separate chapter on Amitabh Bachchanji and several chartbusters Kishoreji had rendered for him. It would have been a valuable addition.
Other than this, the book is a complete package that covers every aspect of the maverick genius and serves as an excellent reference of his songs through a song-index at the end.
Body Heat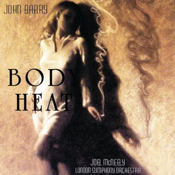 In 2007, I heard John Barry's top hits and I liked the music of Body Heat so much that I decided the watch the movie. Later I bought the soundtrack and it has been one of my favourite movie scores even today.
Here are the chapters associated with the movie score.
Main Title
Ned
Matty's Place
I'm Weak
I'm Burning Up
Chapeau Gratis
Heather
Kill For Pussy
I'm Frightened
Surprise and Explosion
Heather and Roz
Gus and Oscar
Glasses
Better Get Him
Matty Was Mary Ann
Body Heat is Lawrence Kasdan's debut movie inspired by noir classic 'Double Indemnity". Brilliantly shot film, and good performances, makes the movie a decent watch.