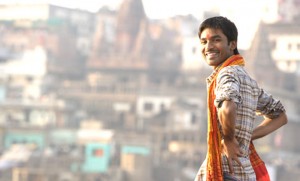 In a love story two things are very difficult to convince. One, about the hero's single minded obsession for his lover. Second, his pursuit of the path to damnation.'Ranjhanaa' does these two quite easily thanks to a good screenplay by Himanshu Sharma and a sublime acting performance by Dhanush.
When a young Kundan announces his love (much like Henry wanting to be a gangster in Martin Scorsese's 'Goodfellas') amidst all that chaos in Benares, the audience is bound to believe both the sheer innocence and also accept the fatality of his love in that moment.
When the same boy gets older and his feelings remain unchanged, Dhanush carries on the same effervescence inspite of the film going the noir route.
Dhanush's potrayal of a carefree, yet good for nothing boy, who only believes in his love as his sole purpose in his life, is one of the best in the recent times. He takes Kundan character to its logical conclusion all the while retaining the original shades. Audience stays with him throughout.
The director Anand Rai exploits Benares pretty well and creates an excellent setting for the conflict between a Hindu boy and a Muslim girl. A.R.Rahman's inspired background score helps to elevate the mood right through the film.
While Abhay Deol's character seems a little incongruous and the second half a departure from the first half, once again Dhanush comes to rescue and carries the twists and turns with ease.
Overall, 'Raanjhanaa' is a decent watch. Kundan's theme can be summarized in this excellent song from Kashmir ki Kali..
hai duniya usikee jamana usika
mohabbat me jo ho gaya ho kisee kaa

luta jo musafir, dil ke safar me
hai jannat yeh duniya usakee najar me
usee ne hain luta maja jindagee kaa

hai sajade ke kabil har woh divana
ke jo ban gaya hain tasvire jana
karo yehataram usakee diwanagee kaa

barabad hona jisakee ada ho
darde mohabbat jisakee dawan ho
satayega kya gam use jindagee kaa