There's a certain charm when a solid actor plays an action hero. He brings in elements into movie, that otherwise might be considered incongruous in an action movie– tight close-ups, verbal duels with the villain, reluctance to unleash his power  etc–along with the regular bang-bang stuff. Denzel Washington does something similar to the vigilante-loner-action-hero picture 'The Equalizer'
Denzel with his towering screen presence and acting caliber, steers the movie through to its logical conclusion. He brings in a languid, samuraiesque flow to the proceedings. He is an ex-agent, who has seen it all, with the power to powder anyone, but  waits patiently with a loaded gun and folded fists. He is so assured about himself and miserly about bullets, that he even gives his opponent a chance to walk away.
Director Antoine Fuqua adds enough padding and lets Denzel do his job. The movie  appears a bit slow at times, but every time Denzel comes back on the screen there's never a dull moment. While there are several scenes that stand out, the first scene where he meets the villain on his doorstep, is perhaps the best of all. He redefines the word 'cool' in that scene 🙂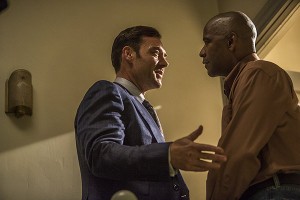 All in all, 'The Equalizer' is a must watch for all Denzel fans, who would love see him in an action avatar and do not mind his home improvement tools piercing through goons.
Movies I was reminded of: Heat, Taken, Jack Reacher, The Good, The Bad and The Ugly, Dirty Harry.
Couple of quotes from the movie
"I am offering you a chance to do the right thing. Take it."
"What do you see when you look at me"