It isn't right to say Dr.Mangalampalli Balamurali krishna (Dr.BMK) is no more. His music is still alive and will be there for every music lover in the years to come. This article is an attempt to present my journey with his music, that too from an ignoramus of carnatic music point of view.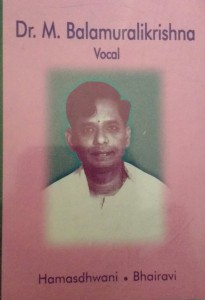 Probably the first ever composition I heard of Dr.BMK was from his album on 'Bhadrachala Ramadasu Keerthanalu' album, in the mid eighties. For a teenage boy, thriving in a collection of English music, and taking pride in enjoying music without understanding lyrics, it was an interesting experience to listen to classical/light music of Dr.BMK.  I took a liking to a few songs in that album..the upbeat ones…Takkuvemi Manaku, Idigo Bhadradri, Pahi Ramaprabho and Ramachandraya Janaka. And I began listening to them regularly, sandwiched between Mukesh-Raj Kumar songs and Michael Jackson numbers.
As a scout of all types of music, I tried to sample a few more of his other classical music songs but I was put off by the raga rendition or the Sangathulu…which I felt at that time, took you away from the actual song.
In early 90s…just before the satellite channels explosion, when we were still hooked on to Doordarshan, I saw Dr.BMK's rendition of 'Dandamu Pettenura". That song stayed with me. Something about the way the song begins, or the way it goes up and down, or a certain confidence that exuded in it or the lyrics…or the mellifluous rendition of Dr.BMK….may be all the of these, helped the song to remain in my memory for a quite a long time.
And, just before I left to US in Jan 1997, I bought two audio cassettes of his…Pancharathanas and Bhajana Seyarada…but never really listened to them in toto.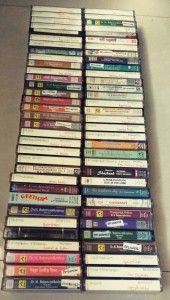 My real journey with Carnatic classical music began when I was in Annapolis. A cousin of mine, who visited me in 1997, was carrying his collection of Carnatic music with him. It was a collection of close to 100 audio cassettes and and about 70 of them were that of  of Dr.BMK . I casually asked him if he had 'Dandamu pettenu ra'. He was surprised that I had some interest in classical music but said he did have that song. Some thing came upon me and I copied close to 40 cassettes during his 2-3 visits to my place. Thus began my serious discovery of Carnatic music and songs became Keerthanas..and the preludes to actual songs became Raga Alapana and the Sangathulu became joyful surprises.  My cousin kind enough to bear my ignorance and introduced me to other singers like GN BalaSubramaniam, Maharajapuram Santhanam, ML Vasanthakumari etc…and also to the discussions and debates on who is great in what…the amateurs versus purists….raga structure etc. But I chose to remain ignorant of the most of the theory in carnatic music and just picked whatever felt good for my ears, and my identification of Ragas was purely based on what I heard and remembered rather than the Swaras.
Since then…that is for the past 20 years,  I have enjoyed classical music from various singers but Dr.BMK takes a lion share in my classical music listening time.  So, what is about classical music that really sets it apart from other kinds of music. Here's what I think.
Anyone with a penchant to listening music, can recall the mood of the song one first heard it or the emotions that evoke now…either the same or the opposite of it. For instance, let's say one is sad, and you listen to a funny Kishore Kumar song…while the song takes you off the bad mood, next time you listen to it, you invariably are drawn to a mild or Strong recollection of the sad mood also. Same with a sad song evoking happy mood recollection or the combinations of it. But if you allow yourself to get carried away with the Carnatic music, it drowns your moods and transports you to a mood-less state, irrespective of how you discovered it or the mood you picked up the keerthana in. It's as if only music can be felt and nothing else.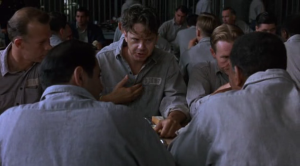 "It was in here…in here. That's the beauty of music. They can't get that from you. Haven't you ever felt that way about music?" Andy Dufresne in Shawshank Redemption
Here are a few picks of Dr.BMK music..once again from an ignoramus of Classical music point of view.
Dandamu pettenura (Balahamsa Ragaa; Thyagaraja)
Telisi Ramachintanatho (Poornachandrika; Thyagaraja)
Raanidi Raadu (Manirang; Thyagaraja)
Takkuvemi manaku (Sourashtra; Ramadasu)
 Peridi ninnu (Kharaharipriya; Thyagaraja)
Seetha Kalyana Vaibhogame (Sankarabharanam; Ramadasu)
Enthani ne (Mukhari; Thyagaraja)
Yela nee dayaraadu (Athana; Thyagaraja)
Thillana in Kadana kutuhula Raga
Pibare ramarasam (Ahir Bhairav; Sadasiva Brahmendra Yogi)
Goodu china boyera (Tatvalu)
Sogasu chooda tarama (Kannada Gowla; Thyagaraja)
Sree Saraswathi (Arabhi; Thygaraja)
 Niravadhi sukhada (Ravichandrika;Thygaraja)
 Raga sudharasa (Andolika; Thyagaraja)
Bhajana Seya raada (Athana; Thygaraja)
Anuragamu leni (Saraswati; Thyagaraja)
Palukutache phalememi (Phalamanjari; Patnam Subramanya Aiyyar)
Entha Nerchina (Saveri; Patnam Subramanya Aiyyar)
Dudukugala (Gowla; Thyagaraja)
 Yendaro mahanubhavulu (Sri; Thyagaraja)
Sriramanamam maruvam (Kharaharipriya;
Manasa etulorthune (Malayamarutham; Thyagaraja)
 Sivananda Lahari (Ragamalika; Adi Sankara)
 Samukhana Nilvagalguna (Kokilavarali;Thyagaraja)
 Paraloka bhayamu leka (Mandari; Thyagaraja)
Kalaharana melara (Kharaharipriya; Thyagaraja)
Srirama padama (Amrithavarshini; Thygaraja)
Chinna naade naa cheyi (Arabhi; Thyagaraja)
Srirama nee naamemi ruchira ( Kharaharipriya; Ramadasu)