Siva/Shiva (1989), is a special movie for our generation i.e. for someone who was a college student in the late 80s. Cycle chain scene captured the imagination to such an extent that, people tried to emulate it in real life to disastrous results. Moreover, the brand Siva was so intense, that there were scuffles and fights in college amongst students, to earn the reputation of 'I am the Siva of this college'.
I watched it for the first time; in Meera Theatre (Khairtabad), after a day or two, the film released. I particularly remember the serpentine queue for a second show, and my cousin fervently praying to the nearby Lord Ganesha's idol for tickets. (I for one, always value other's time and mine too, and thought it was not so important to poach into Lord Ganesha's busy schedule.) Chance or God favoured us, and we got the tickets. In that viewing, I did not quite get the movie. However, I overheard lot of praise and even some concerns from fans of other stars who said something to the effect of 'if Nagarjuna gets a couple films like this, their favourite stars' days were numbered'.
Later, when I saw the film in Devi 70mm for the second time, I was able to appreciate the uniqueness of the movie. For me it was the sound effects, music and re-recording, and Devi theatre was one of the best at that time. I was hooked on to the film from the first scene itself; where the crane comes down to reveal the college name board and the waiting goons. (In the interview, RGV mentions practical difficulty pointed out by his associate, (Siva) Nageshwara Rao and how RGV instructed the art director to match the height of the name board with the height of the available crane.) And, when the titles start with the smoke from the car as a wipe to introduce the title of the film against the master Ilayaraja's score, your experience just got to the next level. (A friend of mine commented that it was an excellent observation of the director of a diesel car that spews such kind of smoke and use it cinematically)
Here is some interesting stuff that one can learn from this interview.
RGV's learning/ (Cal Newport's) craftsman mindset, he himself mentions 'learning process' in the course of the interview.
Building the career capital

How his Interest in movies, lead to the set-up of his own video library.
His market study
How the video library that was supposed to have 1100 tapes, ended up having less than 200 and blank holders staring at him. He had to think on his feet and overcome the issues.
How his early adapters, those 20 guaranteed customers, he had in mind, deserted him but his surprise when lot of others became his customers
Video library leading to industry contacts
His big decision not to take an overseas job and instead seek a career in films
How he manipulated veteran Kodandarami Reddy to fastrack his movie

Making of Shiva

How he came up with Shiva storyline from 'The Return of the Dragon', when his first choice, that of a horror film was not greenlighted.
His review of Shiva as an observer including the iconic cycle chain scene and what created the big effect. His initial doubts at the scene and how he overcame it
His thoughts on other scenes like the railtrack (Where drama begins, logic ends- Alfred Hitchcock, )
His inspiration for his songs and scenes.
His tryst with the legendary composer Ilayaraja (whom RGV considers better than AR Rahman in background music) and how the film isn't the same without him.
How he was asked to cast actor Mohan babu in the character of Ganesh and his counter logic. His difference of opinion with fight master Raju, and he having to overtake that department.
How he changed the Naresh scene with a shot of his writhing in pain.
How the audience were stunned at first and then showed up in droves for subsequent shows. (Just like Sholay)

Others

His personal cinema knowledge and integrity, bailing him out in tough situations, when people doubted his ability.
His excellent rapport with Nagarjuna and producer Surendra, who trusted him completely.
His ability to work with newcomers and build an excellent team.
His approach to life and moving on from the biggest success in his life.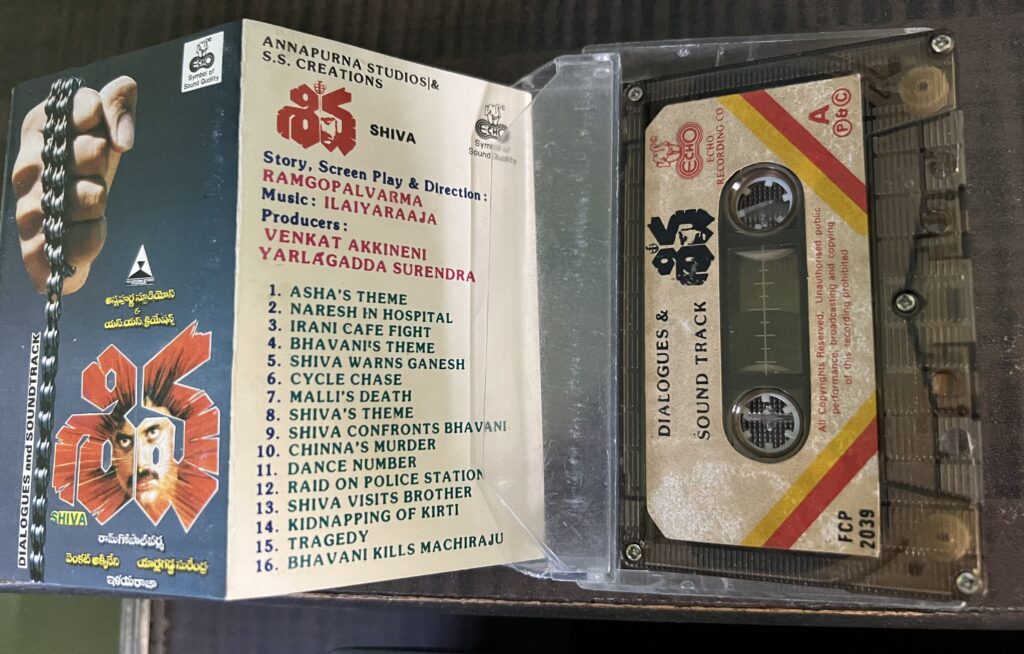 Tailpiece 1: Shiva was a trendsetter in many ways. People started looking at things like sound design/mixing, taking and others, very differently. It was one of the very few films (Sholay, Muthyalamuggu etc) that had the Dialogues and Soundtrack released in the market
Tailpiece 2: My father's friend would talk about the film a few months prior to its release (when the film name was on the walls of Jubilee Hills, as was the norm in those days) and its English piccher taking. My father himself, would tell me a few more titbits related to the making and RGV, which cannot be made official:-) Incidentally,he even interviewed him for Zee Telugu when his Govinda Govinda ran into censor troubles and father actually telecasted the uncensored scenes on Zee. Wish I had that episode:-)
We are sorry that this post was not useful for you!
Let us improve this post!
Tell us how we can improve this post?