Body Heat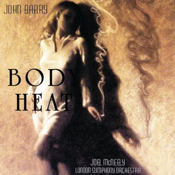 In 2007, I heard John Barry's top hits and I liked the music of Body Heat so much that I decided the watch the movie. Later I bought the soundtrack and it has been one of my favourite movie scores even today.
Here are the chapters associated with the movie score.
Main Title
Ned
Matty's Place
I'm Weak
I'm Burning Up
Chapeau Gratis
Heather
Kill For Pussy
I'm Frightened
Surprise and Explosion
Heather and Roz
Gus and Oscar
Glasses
Better Get Him
Matty Was Mary Ann
Body Heat is Lawrence Kasdan's debut movie inspired by noir classic 'Double Indemnity". Brilliantly shot film, and good performances, makes the movie a decent watch.