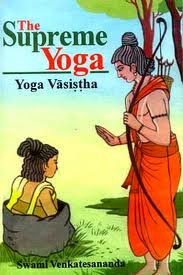 Most of the scriptures are narrated by God to His devotees, but the Yoga Vasishtam was narrated to God Himself. It is the teaching of the sage Vasishta imparted to Lord Rama. The context is pretty interesting too. When Lord Rama is in a mood of renounciation, sage Vasistha comes to his rescue. What follows is a a one of its kind conversation that unravels that mystery behind the creation of the world and the Supreme Conciousness.
Another striking apsect of this great work is its rational approach. And it is summed up in these two lines.
Even a young boy's words are to be accepted if they are words of wisdom; else, reject it like straw even if uttered by Brahma the creator.
While there are several translations available for this great work, 'The Supreme Yoga:Yoga Vasishta' by Swami Vekatesananda makes for a good intro.The verses are arranged in a order of daily thoughts spread across an year.
We are sorry that this post was not useful for you!
Let us improve this post!
Tell us how we can improve this post?