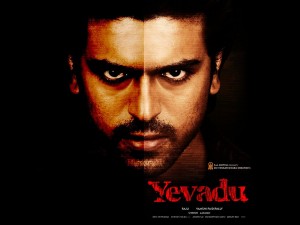 "Yevadu" sets out to be a commercial entertainer and unabashedly goes about its objective. It is this clarity in execution, a few decent commercial elements and the presence of two leading stars works for the film.
The film reminds you of several old films like "Mass", "Chatrapathi", "Athanokkade", "Rangam", "Deva" etc but the set up of the movie in the first half and the lead to the second half holds the audience's interest. But once the second half gets into motion, movie treads a much beaten and convoluted path when the real "Ram Charan" makes his claim on the movie. Couple of good songs provide much needed relief and Ram Charan dances like a dream in "Freedom" song. Acting wise he doesn't have much to do, other than believing in the routine scenes and provide his screen presence, which he does.
Rest of the star cast provide adequate support, with a decent ensemble of veterans like Sai Kumar, Jayasudha, Kota Srinivasa Rao, Brahmanandam, L.B.Sriram, Murali Sharma and newbies like Shashank, the guy who played Ramcharan's friend etc. DSP's music is decent and with each film he is making his mark with the background score.
In many ways the movie is meant for Ram Charan fans, and the presence of Allu Arjun is is an added bonus, who lives on beyond his small role for most of the movie's first half. As Dil Raju mentioned in a recent press meet, it is very rare for a film that is delayed to have a positive start at the box-office, and "Yevadu" breaks this jinx. The fact that it has dated content already helped his cause?:) If it were based on a  theme of topical interest there would have been a risk of getting outdated :)?  The movie was promoted aggressively, more so, in comparison to the other films and that might have helped as well.  The extent of "Yevadu" success would be known in couple of weeks, but for now it has the cash registers of single screens ringing.
Side note: Wondering in how many films did we see 'basti' being used to portray heroism. Here is my partial list.–Laawaris (1981), Nayakudu (1987), Yamudiki mogudu (1988), Angaar (1992), Chatrapathi (2005), Andhrawala (2004) Businessman (2012). But "Nayakudu" still retains the top spot in my mind 🙂
Related links: Nayakudu (27m 54s)

We are sorry that this post was not useful for you!
Let us improve this post!
Tell us how we can improve this post?