Release Date : December 20, 1966
Genres: Adventure, Drama, Romance
Duration: 3h 2m
Rating: 3.75/5
Director
Richard Wise
Writer
Robert Anderson
Produced by
Robert Wise
Stars
Steve McQueen, Richard Attenborough, Richard Crenna, Candice Bergen
Cinematography
Joseph MacDonald
Edited by
William Reynolds
Music by
Jerry Goldsmith
Production Design by
Boris Leven
Production companies
20th Century Fox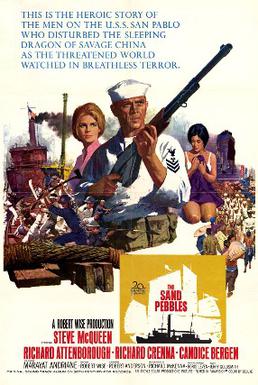 "The system you got on this ship is what killed him, sir" – Jake Holman
What is it about
The Sand Pebbles is a 1966 American epic war film directed by Robert Wise in Panavision. It tells the story of an independent, rebellious U.S. Navy machinist's mate (Jake Holman), first class, aboard the fictional river gunboat USS San Pablo, on Yangtze Patrol in 1920s China.
Jake Holman (Steve McQueen) just wants to be a good engineer and is best happy with the machines. However, troubles erupt when his nature collides with events around him, on the ship and on the shore. Will he find his haven? Will his new romance help him tide over the rough seas of war?
'The Sand Pebbles 'takes us through this journey of epic proportions.
Thumbs up
Lavish Scale
Excellence in all crafts
Thumbs down
Over 3 hours duration

Final verdict

The movie doesn't disappoint a patient viewer and succeeds in transporting him/her to an a long gone by era. All actors do a fabulous job, especially Steve McQueen and Richard Attenborough, who give their all for the role that secured several Award nominations. Excellent production design, cinematography and music makes the movie an engaging fare.
Management Concepts/ Lessons/ References
"If you can't describe what you are doing as a process, you don't know what you're doing."
― W. Edwards Deming
"Our prime purpose in this life is to help others. And if you can't help them, at least don't hurt them."
― Dalai Lama