Release Date : October 25, 2021
Genres: Cinema and Broadcast, Biographies
Duration: 3h 2m
Rating: 3.5/5
Writers
Hanif Zaveri and Sumant Batra
Publishers
Edbury Press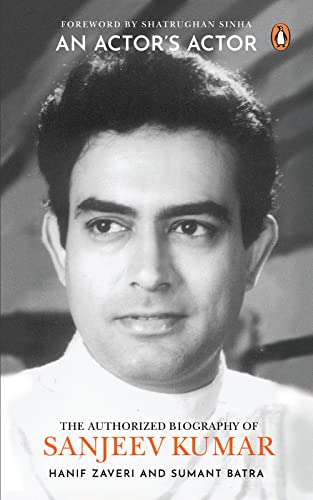 "Every day, the two of us would come up with a new excuse for turning up late. One day we would tell L.V. Prasad, 'Today, there was a bus accident at Mahim Church.' The next day, it would be, 'Two taxis had collided outside Mahim Church.' An exasperated L.V. Prasad finally told us, 'If you can't change the situation, at least change the location. Otherwise, whatever's happening every day is always outside Mahim Church.'"

― Shatrughan Sinha
What is it about
Sanjeev Kumar was an actor par excellence. This statement could have been easily 'is' par excellence if fate and his lifestyle tried their best.
Born as Harihar Jethalal Jariwala, and know as Hari or Hari bhai amongst his friends, he chose Sanjeev Kumar as his screen name. This is how millions of moviephiles know him.
The book 'An actor's actor' is a brief biography of the great actor, tracing his roots, his relationship with his mother, his bond with his immediate family and close friends and provides a snapshot of his sojourn.
Thumbs up
Decent exposition of his initial journey
Gives an overview
Thumbs down
Could have been more detailed

Final verdict
The authors do make a point at the beginning of the book that they were not attempt to pen down a detailed account of his acting prowess or his method of acting. However, they do provide a few pointers like this paragraph on how he would rehearse before giving his first take, which in most cases is accepted. The book also provides his reasoning behind choice of his roles especially the old characters. The book also throws some light on his wayward habits, late night lifestyle and the effect on his shooting schedules the next day. And how his charm, smile and his huge talent, helped him tide over any issues on the set, as a result of him showing up late.
Sanjeev Kumar's life was cut short at 47 and he was a man who kept to himself, so a biography can only say so much. Understandably, the book makes you want for more. But it more than makes it up with tidbits about the films he acted in.
A must read for all movie fans and Sanjeev Kumar fans.
Tailpiece
There is major Telugu connection in his initial success, with 'Khilona' produced by the movie stalwart L.V. Prasad.
Management Concepts/ Lessons/ References
"Remember: there are no small parts, only small actors."
― Constantin Stanislavski
"The gratification comes in the doing, not in the results."
― James Dean