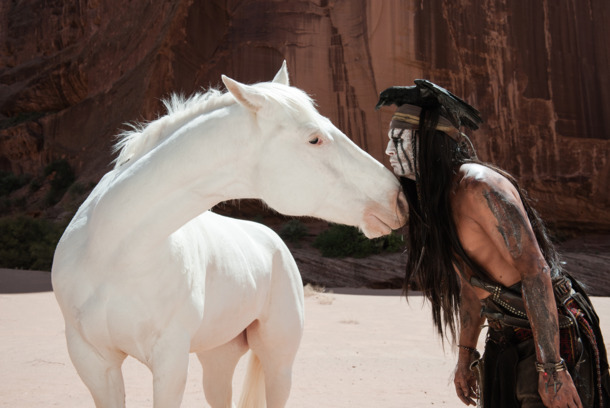 George Lucas and Steven Spielberg recently took part in a symposium in which they predicted an imminent "implosion" in the system as a result of the industry's current obsession with blockbuster movies. Curious about whether or not this was simply exaggeration, Vulture's David Edelstein got in contact with producer Lynda Obst, author of a new book titled Sleepless in Hollywood: Tales From the New Abnormal in the Movie Business. During their conversation, she grimly agreed with the two moguls, predicting, "If, say, four huge tentpole [movies] were to go down at the same time in the same season, it would be catastrophic."
The Lone Ranger — a.k.a. Pirates of the Caribbean 4.5: Sparrow Goes West — is looking like it might be a huge tentpole movie (it reportedly cost $215-250 million) that goes down this weekend. It also happens to be a perfect example of almost everything that's wrong with the current Hollywood blockbuster system. In addition to being massively expensive, The Lone Ranger demonstrates the industry's franchise obsession, origin-story laziness, over-reliance on bloodless violence, and inability to prevent running-time bloat. These are not small problems, and there is no sign that they will be riding off into the sunset anytime soon.
Click here for complete article
We are sorry that this post was not useful for you!
Let us improve this post!
Tell us how we can improve this post?