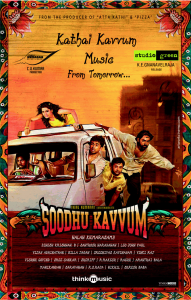 'Soodhu Kavvum' is a low budget Tamil Comedy thriller. All the characters are interestingly etched and their middle class roots make it easy for the audience to connect. The movie is about four young people who meet accidentally and embark on a seemingly innocuous mission that turns deadly for all of them.
The creative team behind the project does a neat job and the cast deliver to their expectations. Special mention for editing and background score that infuse the desired tempo into the proceedings and elevate the movie beyond the budget. Overall, the movie is a good watch and one can enjoy it even with sub-titles.
The psycho police character reminded me of the killer character in 'Kahaani' and his violence that of Quentin Tarantino's films. What if the honest minister were indeed corrupt like that of  the minister in the 'Clean Sweep Ignatius', a shorty story by Jeffery Archer.
We are sorry that this post was not useful for you!
Let us improve this post!
Tell us how we can improve this post?