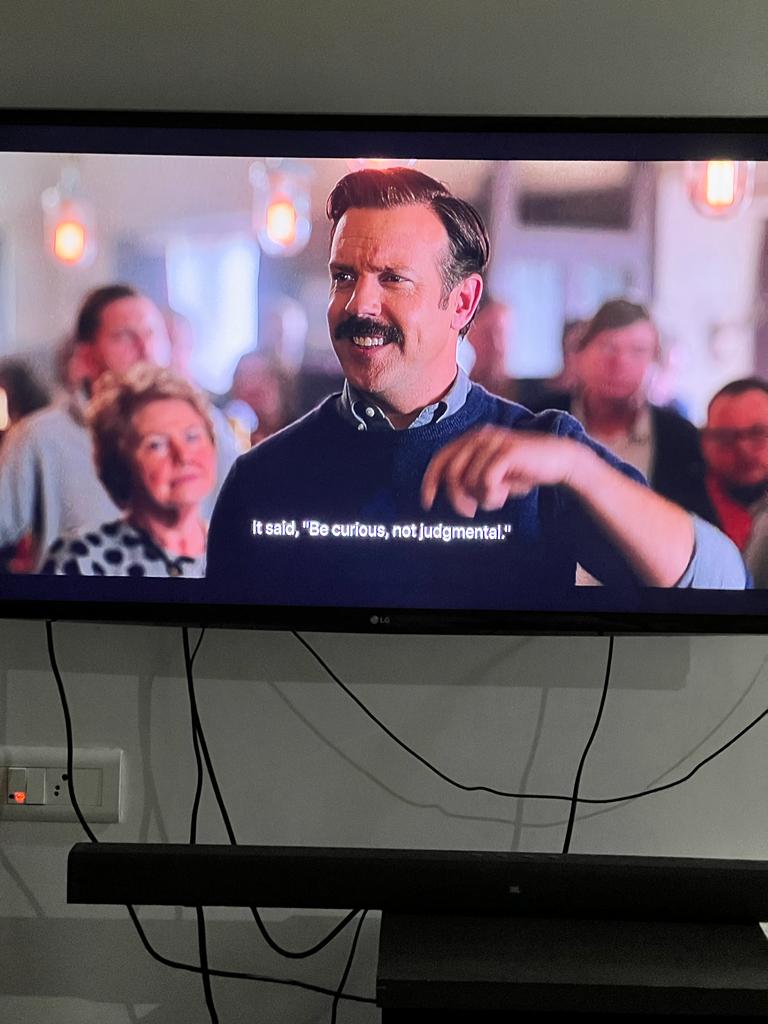 It's very difficult to do a comedy show, let alone in the sitcom mould. Ted Lasso achieves that, with effective and efficient writing.
Here are a few brilliant examples.
All the main characters are set up interestingly early on and their arcs (Past problems, present dilemmas and future goals/worries) established (Ted, Rebecca, Jamie, Roy, Keeley and Nathan). The support characters are etched into these.
Self-depecating/Loser type of characterisation for Ted lasso and the conflict with Rebecca is brought out very nicely, with their own reasons. The fact that Rebecca has an ambivalent relationship with Ted, helps in building the comedy, during the first phase of Joseph Campbell theory (where the hero is brought into a new world and adjusts to it).
The overall plot and the individual character arcs are seamlessly blended.
The entire show is peppered with lot of quotes from management and philosophy.
The pub scene with the darts, though tweaked for dramatic effect, works well and delivers a knock-put punch.
(Spoilers ahead) The resolutions towards the end are done well, with Ted forgiving Rebecca. There is a valid reason, which is a rarity in writing (writers hide behind the 'to err is human, to forgive' kind of principle) as he himself understands how painful and chaotic a divorce is. This suits Ted, as he has both a heart and brain.
(Spoilers Ahead) The reason for the fish out of the water scenario, though a bit unclear at the beginning is revealed slowly (in the episodes where his wife visits him and late, he signs the divorce papers) in the subsequent episodes, and with crystal clarity, in the end when he forgives Rebecca.
Last episode ending though predictable, works as we all love the characters and want them to come back in Season 2. (I for one, thought the team wouldn't be relegated, and it would be Ted who would move on to something else like Hoosiers)
Here are some brilliant quotes and books from the show.
Books
Quotes
We are sorry that this post was not useful for you!
Let us improve this post!
Tell us how we can improve this post?