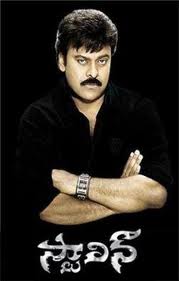 On paper, 'Stalin' looks great, just like the way the protagonist draws the Mega idea to his friends. If only you could frame the paper, shoot and screen it in theaters. In reality, it needs more effort than that to project such an idea. It is in the execution, that the movie goes haywire, with almost every aspect of film making begging for more. A little here and a little there would have made a great difference. But 'Stalin' is out there and millions have already lapped up the film. What you are about to read is an analysis by an ardent admirer of Megastar and a regular cinegoer, who would have liked to see a better fare, as it comes only once in a year.
Before we discuss 'Stalin' further, let us look at the creative dilemma of the movie director when he handles a project with Megastar. It is like a dream and a nightmare, both rolled into an intricate package. A dream, as there is a huge captive audience all over the world who will devour the movie on the first day. A nightmare, as there is a huge expectation from this group, which only seem to go higher every year like the Khairtabad's Ganesh idol. Now, if this was not enough, there are two other angles, which he needs to take care off. One that of the Megastar's public profile as a social activist. Second that of the seemingly growing sentiment of everyone-wanting-him-to-be-in-politics. Hmm.. can a movie ever be made keeping in mind all of the above?
The producer Nagendrababu entrusts this impossible task to the Tamil director Murugadoss, who tries to pull it off and expectedly falls short. He comes up with a main theme that caters to his public profile, inserts political innuendos and then tries to add the rest to suit the Megastar's image. The result is an incoherent screenplay, with several just-in-case scenes thrown in without adding to the overall effect. The screenplay tries to create two personas of the protagonist—an extraordinary man out to change the world, and an ordinary man who gets caught in a flurry of events. There is an inherent conflict in these two personas as one is proactive while the other is reactive. The script should have addressed this aspect with right characterization and accordingly drive the movie flow. But it doesn't. Hence, as the movie unfolds, you begin to wonder if it were a double role with the two Chiranjeevis as different as chalk 'n cheese. And every aspect of filmmaking tries very hard to 'tell' you he is one and the only Megastar, rather than 'show'.
For some strange and inexplicable reason, the director along with the Paruchuri duo resorts to the stereotypical and melodramatic movie presentation. The treatment including special effects and pyrotechnics are a part of such presentation. But one can guess it coming, when in the introduction scene of Stalin the nature responds to his entry by falling trees and the goons reciprocate by flying all over. In the midst of all, you have an excellent close up of Megastar eyes and a heavy background score. Now when you have the tiger like eyes of Megastar displayed in 70mm splendor, do you still need underscoring? Isn't there a danger of going overboard? Yes, it does after a while. By the time Megastar is engaged in his final fight, even his die-hard fans would be mindful about the excess factor.
Media these days is going wild about the message filled main theme as if acknowledging that the rest is not up to par. But the main theme is not without its shortcomings either. The biggest chink in its armor is the believability factor and the large acceptance thereof. In the movie, 'Pay it forward' the originator of a similar concept is a small kid in a small town, lending the color of a fairy tale. If you are sucked into the enthusiasm of the child you will believe it, otherwise you don't. Either way the movie works without hinging on this believability factor. However, Stalin's script is heavily dependent on the masses accepting the one-to-three formula and this necessitates accommodating 'elevating' scenes that would otherwise never have made their way into the film.
Let's now look at the song-dance-drama-action quartet that forms the major chunk of Megastar's image. Songs and dances are average and may be a tad below the expectations but they don't hurt the movie much. It is the drama-action episodes that do, as they are removed from the main theme. Neither they play a role in the development of the extraordinary man's persona nor come as impediments in achieving his mission. So, when Megastar fights several truckloads of baddies or delivers powerful retorts to home minister (Prakash Raj) and his cronies, the impact is less than desired. If only the baddies tried to stop him from achieving his mission and then Megastar got back in 'Rough aadinchesta' style?
Infact, Stalin leaves us with several such If only's or What if's in the end. For instance, what if CM comes to know that Stalin was the person responsible for the massive chain reaction in the last scene, when 'Stalin' matter-of-factly mentions it? What if the good chain reaction obviates some of the fight scenes and instead helps the hero to win some strategic battles rather than bloody-gore filled ones?
May be a VV Vinayak or SS Rajamouli would have conceived such scenes.
Speaking of them, one would wonder about the possible changes in the treatment if they handled the project.
Does it take a Telugu director to fully understand the grandeur of Megastar's image and project it properly? Murugudoss should sure be credited for attempting a novel theme but is the execution better in the hands of our younger lot? Sure, these questions should linger in movie producer's mind as they attempt a movie with the Megastar.
Coming to Nagendrababu, the producer…while commending his efforts to come up with a novel theme, one wonders if the societal angle is a must in a Megastar movie, a once-in-an-year-gala event. In this stress filled world, is a wholesome-family-entertainment not a message in itself? If entertainment leads to happiness and happiness begets happiness would it not spread into society? Megastar would continue to influence the society through his public life anyway. Why bring his public profile into movies? Is this a demand of cinegoers as well?
If we leave these questions aside, it sure would not hurt if there were a message, provided there was substance too. But, only message, and no substance make Megastar a dull boy. 'Stalin' proves just that.
We are sorry that this post was not useful for you!
Let us improve this post!
Tell us how we can improve this post?