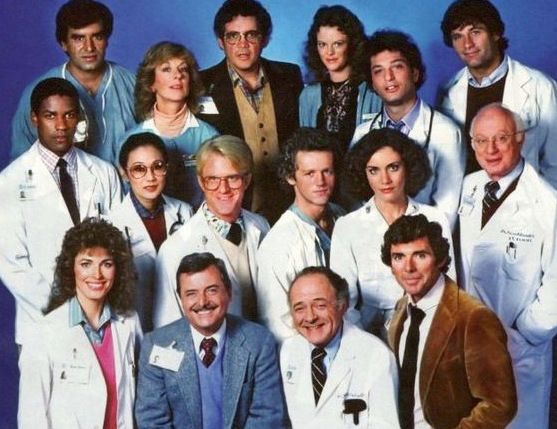 St.Elsewhere (1982-1988) was an acclaimed and award winning TV series that appealed to a niche audience.It was set at the fictitious St. Eligius Hospital, which was often derided as St.Elsewhere in the medical circles for its not-so-great infrastructure.
The TV series takes us through the lives of the dedicated staff, who fight it out against all the odds to give the best possible medical care to their patients. The episodic format allowed the writers to introduce a new patient (in the form of terrific actors like Tim Robbins, Thomas Hulce etc) and weave his/her personal story into that of the key characters.
The structure of the TV series hovers around these four. (Spoilers ahead)
Establish the not so perfect world through the eyes of the key characters (The hospital itself being treated as a character. The long takes are as if the hospital, a third eye, allowing us to peep in to the extent it wants.)
Introduce new characters often as patients every week bringing in new problems that affect the lives of the lead actors/protagonists. (Sometimes non-patients are introduced as well, like a lawyer who helps out on a malpractice suit or a heart specialist from Hungary or a lobster fisherman struggling with his brother's cancer etc)
The key characters learn something about themselves while teaching or treating or just interacting. (Dr. Auschlander's conversation with a liver patient is one of the best, who sees hope in life inspite of his own terminal condition. Second best is Dr. Westphall's honest feedback to Dr.Craig and how he takes it.)
Present the flow of life. Life goes on no matter what, and how hopeless it seems to be. (Season 1 ends with Auschlander making a toast to life)
St.Elsewhere Season 1 is top notch, both writing and acting wise. The ensemble cast is out of the world, featuring seasoned hands (at that time) like Ed Flanders (As Dr. Donald Westphall), William Daniels (as Dr.Mark Craig), David Birney (as Dr.Ben Samuels), Norman Lloyd (as Dr. Daniel Auschlander) and also top actors today who just started out back then like David Morse (as Dr.Jack Morrison), Denzel Washington (as Dr.Philip Chandler) and a host of others weeklies like Tim Robbins (in 'Bypass'), Thomas Hulce (in 'Family History'), Ray Liotta (in 'Rain), Dick O'Neill & Michael Madsen (in 'Remission'), Howard Duff (in 'Addiction') and Pat Hingle (in 'Brothers').
Tailpiece 1:

In one of the episodes, Dr.Craig prepares a definitive list of to-do for his party, sort of a harbinger to Craigslist? 🙂
Tailpiece 2:

The hospital's nickname, "St. Elsewhere", is a slang term used in the medical field to refer to lesser-equipped hospitals that serve patients turned away by more prestigious institutions; it is also used in medical academia to refer to teaching hospitals in general. Source: Wikipedia
Tailpiece 3:

St.Elsewhere used to be aired on Doordarshan in godforsaken hours. Back then DD used to telecast adult movies during the same time. My father wondered what these episodes were, and watched a few with me. Later, left me alone 😉
Tailpiece 4:

The mix of traits from Dr.Craig and Dr. Westphall probably makes the best manager in the world.
We are sorry that this post was not useful for you!
Let us improve this post!
Tell us how we can improve this post?