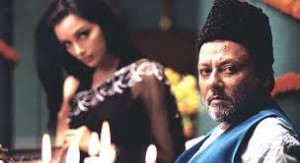 Pankaj Kapoor gets his due as an actor with 'Maqbool'. Though he shined in various offbeat films like 'Ek Doctor ki Mauth', 'Ek Ruka Hua Faisla', 'Jaane Bhi do yaaron', when it comes to mainstream films he was given a raw deal including his half-cooked role in ManiRatnam's 'Roja'.
For a change, he gets an author backed role in 'Maqbool' as an ageing underworld don and he carries the role with elan and also brings a screen presence reminiscent of 'Marlon Brando'.
Apart from Pankaj Kapoor, Maqbool boasts of one of the most talented star cast like Naseeruddin shah-Om puri(who act like Sutradhars for the film), Irfan khan(as the person between lady love and his master) and Tabu(as the mistress of Pankaj Kapoor).
The story is about Jahengir/Abbaji(Pankaj Kapoor) and the aftermath followed by his killing by his next in command Miya(Irfan Khan) who commits the act for his love for Nimmu(Tabu). Miya triggers off a huge battle in the underworld while he himself and Nimmu struggle to face the moral battle that wages inside them.
The director of this film, Vishal, is apparently inspired by Kurusowa's the 'throne of blood' and Shakespeare's 'Macbeth'. Vishal as a director excels with the help of a great screeplay and an out-of-the-world cast.
We are sorry that this post was not useful for you!
Let us improve this post!
Tell us how we can improve this post?