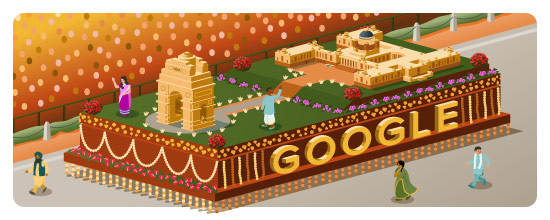 Happy Republic Day!
Here is a list of my top 10 films that sparked the feeling of Indian in me at various stages of my life
Sikander (Hindi) (1941): Watched it when I was very young on the good old Doordarshan. The scenes where Porus stands up to Sikander, are still fresh in my mind, thanks to my neighbour's adulation for Sohrab Modi poured into a running commentary 🙂
Alluri Seetharamaraju (Telugu) (1974): I saw this film for the first time when I was 6 or 8 years old, in its rerun in Venkatesa theatre, Hyderabad. Scenes where tribals attack police stations, the climax and super hit song 'Telugu Veera Levara' stayed with me over the time.
Gandhi (English) (1982): Saw it first time on Doordarshan and later many times on video. Got to know more about Gandhi and India's freedom movement from this film, than from any other source. Heroism took a new meaning and so did the concept of being an Indian. Several scenes stay fresh in mind, the most notable is when a choking Martin Sheen relays his message to his office in London.
Peddamanushulu (Telugu) (1954): It touches upon a new angle of patriotism and gives another meaning to being an Indian. A great ensemble of artists (Gaurinadha Sastry, Relangi, Vangara, Lingamurthy, Sri ranjani, Ramachandra Kasyap, Chadalavada) under the direction of Legend K.V.Reddi, makes this a memorable movie. But it is the inimitable voice and music of Ghantasala that reverberates the neo Indianism, in the two songs–Nandamaya and Siva Siva Murthivi Gananadha.
Janani Janmabhumi (Telugu) (1984): One of K.Viswanath's classics that does an interesting overlay of Indian culture and rural India to create a sense of purpose to young India. Scene where Balakrishna returns from USA in Indian clothes and his conversation with his father is one of the best on Indian screen. Sarada, who plays his mother, represents the fabled Mother India, but her character nicely integrated into the story, without making it allegorical or parallel (Eg.Shekhar Kammula's 'Dollar Dreams')
Rudraveena (Telugu) (1988): An Indian classic. Chiranjeevi, K.Balachander and Ilayaraaja deliver a musical masterpiece that achieves so much in a single film. It touches on many aspects of Indianism, all its scenes  background tuned to perfection by Ilayaraaja. The web is replete with articles about the musical genius of Ilayaraaja in this film, but the one scene that stayed with me over the years is where Chiranjeevi speaks to a woman and daughter who share a single saree.
Main Azaad Hoon (Hindi) (1989): Amitabh Bacchan delivers one of his career best performances in this movie and it is his presence that lifts several scenes to greatness. It attempts to give a voice to the common Indian and who better to do it than the baritone Amitabh. Scenes where he interacts with the audience and bangs a glass of water on the minister's table, are just two examples of the subtle and seething Amitabh.
Sarfarosh (Hindi) (1999): It came at a time when Pakistan was the common enemy of all Indians and it does a terrific job of crafting an intelligent film. It was one of the few films of India that explored the lesser known geographies (Kutch etc), and featured a brainy Aamir as the hero, making it easy for folks like me to identify with  🙂
Aparichitudu (Telugu) (2005): It takes a fairytalesque approach to mete out instant justice, but I was bowled over by the thought of it. Hold dear to the freedom we achievd after a great struggle, do your bit, take pride in your work and show empathy to fellow Indians…all these glorified through the characters of Rules Ramanujama and Aparichutudu. Interview with the crowd in a stadium, old man talking to his relative in abroad and the climax are some of my favorite scenes.
Guru (Hindi) (2007): It is a testimonial to the spirit of new Indian. My notes here.
In addition to the above, there are several other films that appeal to the Indian in me. Notable among them are Leader (1964), Shaheed (1965), Upkar (1967), Purab aur Paschim (1970), Parasakthi (Tamil)(1952), Vedam Pudhithu (1987), Karma (1986), Chak De (2007), A Wednesday (2008), Swades (2004), Bhaag Milkha Bhaag (2013), Ek Doctor Ki Maut (1990), Kanya Sulkam (1955), Dollar Dreams (2000), Prahaar (1991), Ghulami (1985), Tamas (1987) (TV series).