Before I begin my rambling post on the movie 'Detective Byomkesh Bakshy', few points regarding my exposure to detective genre in literature and movies.
I am huge fan of Sherlock Holmes. Read most of Sir Arthur Conan Doyle's works…watched several  adaptations on small and big screen, including BBC's 'Sherlock' (Brilliant!).
I consider Jeremy Brett as the definitive Holmes but I liked the attempts of  Benedict Cumberbatch and Robert Downey Jr.'s in portraying the the iconic character.
I am not a big fan of Agathe Christie's Poirot series, just a read a few and watched a couple of episodes on TV.
I am a big fan of movies like 'The Perfect Murder' (Naseeruddin shah), 'L.A.Confidential', 'Chinatown' etc that feed on suspense and detection. (Yup, Hitchcock's films too!)
Dibakar Banerjee's 'Detective Byomesh Bakshy' is my first encounter with the famous Bangla character.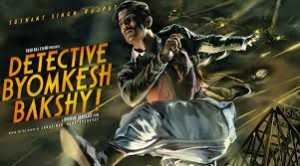 Not sure if any of the above prejudiced me in some manner when I watched the movie. But the end result for me was just about an ok fare.
The production design though top notch, makes a forced entry into the story telling with Calcutta becoming the mainstay both as a backdrop and also as a very important element in the plot. This Calcutta centric plot and too many subplots, makes it difficult for the movie to achieve the scale and speed the movie accidentally or intentionally promises.
The first half of the movie suffers from cliches (red-herrings, simple observations etc) that are most often seen in detective genre, and fails to disguise them enough to make the thoroughfare interesting. But the biggest flaw for me was the take off points for the main character, that do not really allow you to connect, if you are new to this famous Bangla character. You ought to know about him and be in awe of him, even before watching the movie?
The making of "Detective Byomkesh Bakshy" sure suffers from lack of conviction from the makers, and doesn't deliver the intense-on-the-move characterization that is expected from the lead.  This is infact a major challenge for depicting cerebral characters, which a genius like Jeremy Brett understood and brought it out in his inimitable manner, aided by a terrific dramatization of the Sir Arthur Conan Doyle's work to suit the small screen.
May be a few liberties ought to have been taken to make the mix a little racier and spicier, like Guy Ritchie did.
May be there are quite a few shades of the character the makers left behind?
May be I ought to be less aware of the points 1-5  mentioned above?
Hmmm…
Related Links:
India Today on Detective Byomkesh Bakshy
We are sorry that this post was not useful for you!
Let us improve this post!
Tell us how we can improve this post?