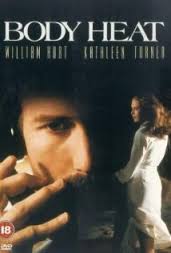 The writer-director Lawrence Kasden of  'Body Heat'  takes his sweet time to introduce the two main characters, specially that of Ned Racine (William Hurt), but the subsequent proceedings make it worth a wait.  The humid coastal town of Florida becomes the backdrop and the open windows in the apartments, open-air theaters, convertibles, buzzing cafeterias, smoggy roads, ringing chimes on the balconies etc convey the town's hot n' sultry atmosphere, which in a way mirrors the main character's feelings.
William Hurt gives a terrific performance as the guy who internalizes all the emotions and manages a poker face for most of the time. As an audience you empathize with him very early on, and stay with him even when he pursues the path of damnation. He gives the impression of 'what-else-can-anyone-do-when-beauty-and-love-strike-together' and blends that helplessness and with a sense of purposefulness to great effect.
Kathleen Turner's debut performance as Matty Walker–the temptress–compliments William Hurt's inner feelings. When the two initially get together as two lost and lonely souls, it is this difference that side tracks audience and leads them on. As the two get to know each other and Matty becomes more emotional, Ned is his usual self and gives nothing away.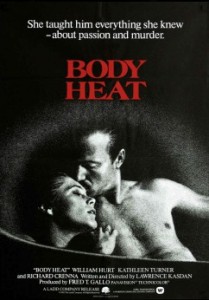 The other two important characters in the film played by Ted Danson and J.A.Preston (he played the judge in the movie 'A few good men' ), lend their support to act three where the cookie crumbles. Ted Danson deserves a special mention as the friend with Joie de vivre attitude, who hates when his duty has to take precedence before friendship.
Lawrence Kasden  delivers a cult film that inspired several such films that spawned quite a few B-films around this theme (Hindi film 'Jism' is one).  Everything about the movie is A-class including cinematography and editing.  And no words for the John Barry's musical score, except a big WoW!
All in all, 'Body Heat' is a  must watch for discerning movie lovers.
Here's an aside. Director Brian De Palma who is a big fan of Hitchcock suspense films, uses the address 1634 'Racine' for Malone played by Sean Connery 🙂
We are sorry that this post was not useful for you!
Let us improve this post!
Tell us how we can improve this post?