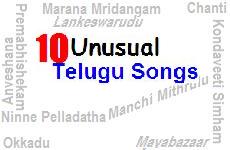 In Indian movies music and songs play an important role. Though some
of the new age directors regard songs as an obstruction in the narration
and try to do away with them, majority of our film makers still insert songs
into the movie wherever possible. In certain cases, such efforts have led
to songs in rather unusual situations with interesting results. Some
have even managed to be chartbusters and connect well with the audiences.
Here is one list of top ten such Telugu songs that probably pushed the
limit in terms of placement, conceptualization and the overall mood.
10: Ennallo Vechina Udayam from Manchi Mithrulu
What do you do when you are about to meet your best friend after
a long time? If you were Super Star Krishna or Nata Bhushana
Sobhan Babu, you would probably break into a song. Incidentally,
this is exactly what the duo does. Their song is shown in inter-cuts,
with the two of them running to cover the distance and singing aloud
their 'meeting agenda'.
While the premise is interesting, as the two have strayed in different
paths and there is an imminent clash in the offing, the song does
appear a little unconventional. However, the song itself is a memorable
composition and stands as a testimony to the contributions of
three stalwarts-Ghantasala, SP Balasubramaniam and SP Kodandapani.
9. Naa Mogudu Ram Pyaari from Ninne Pelladatha
A get together for ladies always demands a song and the movie
makers usually oblige with a variety of 'perantam' scenarios. Krishna Vamsi
breaks away from the mould and presents the naughty side of such
groups. In this song, the group narrates the problems faced by the
fairer sex of all ages.
While commending Krishna Vamsi for having converted a 'class'
occasion into a 'mass' spectacle, one cannot miss the unusual nature
of this song. Nagarjuna, Tabu, Ramaprabha and Lakshmi star in this
hip swinging, remix version of a 'perantam' song.
8. Idhi Tailam Patti from Chanti
Romans would have been proud of this song for sure, as they
were the ones who popularized the concept of communal baths.
Tamil Director P. Vasu goes a step forward and makes it an entire
household event and Director Raviraja Pinisetty stays true to the
original.
Victory Venkatesh conducts this family bathing rituals (for men only)
while the wives watch merrily, clad in 'Kanchivarams' and 'Yedu Varala Nagalu'.
Well, you couldn't ask for more when SP Balasubrahmaniam sings
this melodious composition from Ilayaraja.
7. Agadhu Agadhu from Premabhishekam

This is the ANR's swan song in the movie, as his character makes
way to heaven or whichever destination one reaches after death.
He plans his last moment to perfection, with all the regular ingredients
of a heavy melodramatic climax.
Darsaka Ratna Dasari and Music Director Chakravarthy dish out an
inspired fare from the old classic 'Devdas', with some modern touches.
6. Neevenaa Nanu from Mayabazar

Much before the current 'dial your song' programmes, Mayabazar
comes up with a live show concept. Infact this wonderful
gadget-Priyadarshini-is so advanced that instead of an anchor you
connect with your beloved and what more; you could even croon
along with him/her. In this song, Savithri joins ANR who seems to be
waiting for her on the other end.
The creative team of KV Reddy, Ghantasala, Pingali and S. Rajeswara Rao
deserves all the credit for an interesting idiot-box situation.
5. Saahasam Swasaga from Okkadu

The entire gang of Rayalseema factionists are after Maheshbabu.
He takes off in an automobile along with Bhumika. In the circumstances
it does appear logical even for someone of his Herculean capabilities.
What perhaps is not so logical from the movie narration point of view
is a background song.
Director Gunasekar pulls it off with the help of an excellent tune
from Mani Sharma and great lyrics of Seetharama Sastry. Wonderfully
shot the song adds to the touch of novelty that is already a
part of the movie.
4. Ilalo Kalise from Anveshana

A damsel in distress and our hero is nowhere in picture. So, what
does she do? She sings a song and a deafening chorus joins in.
What makes this song out of the ordinary is the fact that the song
is placed just before the resolution of the mystery.
One might argue that songs have no place in a thriller. But Director
Vamshi turns the same notion upside down. He uses a song to
create the necessary emotion in the climax while Janaki 'voices'
heroine's concerns in a high pitched Maestro Ilayaraja's composition.
3. I Am Mad from Lankeswarudu
May be it all started with 'Pasivaadi Pranam', when Megastar Chiranjeevi
first thrilled the audiences with his break dance. Later, it became a norm
in every of films. Now how do you bring variety in an oft-repeated performance?
Darsaka Ratna Dasari shows it how. He picks up a sad situation and
makes Chiru perform in his inimitable break dance style. The execution is
equally 'new' with Chiru's excellent dance steps interspersed with his facial
expressions.
2. Athamadugu Vagulona from Kondaveeti Simham

In the 80s NTR and Sridevi's hit combination delivered several
blockbusters and featured in foot tapping music. While some of the
songs were a little out of place, this song tops it all.
Here is the song situation. The heroine is on a visit to village along
with her friends, depending solely on a small tape recorder for their
entertainment. She picks up an argument with the hero, but he is in
the mood for a song. So, what does he do? He takes the tape recorder
away and commands her to sing n' dance to win it back. The heroine
reluctantly agrees, dances to the tune of Music Director Chakravarthy
under the supervision of K. Raghavendra Rao, the undisputed king of
commercial cinema.
Well, it is not very clear if she got back her priced possession, but after
this song never again in the movie is she seen with the tape recorder again.
1. Jungili Jima from Marana Mrudangam
In the early days of his stardom, Megastar Chiru was called by many other
names such as 'Supreme' or 'Dashing' or 'Dynamic' or 'Daring' hero.
True to his sobriquets, we get to see his bold and heavily censored
exploits in this song.
In a tit for tat duel, heroine Radha robs Chiru of all his clothes. Just to
make matters worse she takes away any and everything that is even
remotely wearable. This obviously leaves Chiru stranded and stark
naked in a remote jungle. But dashing as he is, he comes out in the
open in his birthday suit and chases the heroine, till she relents. Veturi
makes this sweet nonsensical song memorable with a dash of philosophy,
while SP Balasubrahmaniam's out of the world rendition makes this
Ilayaraja's fare memorable.
* * *
Also featured in
Related links
10 Unusual Telugu Songs
We are sorry that this post was not useful for you!
Let us improve this post!
Tell us how we can improve this post?