Songs from the movie 'Alag Alag' used to be a regular feature inDoordardarshan's Chitrahaar, in the late 80s.
This song 'Kabhi Bekasi ne maara' was a favorite for all of us kids specially the wah-wah bit.
One of the prominent wah-wah er in this video is Bhagawan Dada…an yester year superstar who had to lead his last years in penury.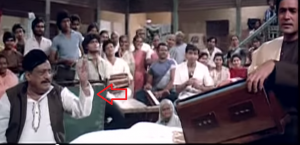 Wikipedia as a small article on him, a rags to riches… and back to rags story.
Here is the weblink: http://en.wikipedia.org/wiki/Bhagwan_Dada
..and eventually had to give up producing and directing films, sell his 25 room sea facing bungalow in Juhu and his fleet of seven cars (one for each day of the week)
Apparently his dance moves were an inspiration for the likes of Amitabh Bachchan and Govinda. Here's a video from his glorious day featuring those famous dance moves.