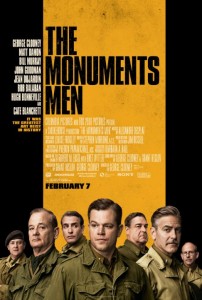 All of us have heard about instances when movies get stuck in the cans or not considered saleable, big and known stars out of generosity, contribute their presence in a few scenes/songs and bail those films out.
Sadly, "The Monuments Men" gives you such an impression. (Budget: USD70 MN as per IMDB; No songs)
Directed by George Clooney and supported by an ensemble cast, the movie fails to entertain normal movie going audience with little or no interest in the Arts department. While the Hitle'rs vision to wipe out all the paintings, sculpture etc of great artists is indeed scary and any effort to save it is laudable, the cinematic portrayal of it doesn't really add up. Perhaps this is the reason why, the character played by George Clooney repeatedly voice overs the question, 'Is Art really worth all their trouble?'. This question seeps into the story telling and the end product resembles a cross between a History Channel Documentary and a 'Dirty Dozen' movie, lacking their respective depth and fun.
Only die hard fans of Bill Murray/Matt Damon/George Clooney (like me),  will be able to sit through the movie and then come out of the movie hall justifying the time and expense in watching it.