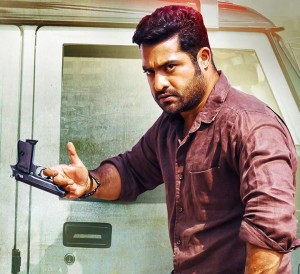 Cop films–with cops as heroes or villains– are not new to cinema.
In Indian cinema, right from Amitabh's 'Zanjeer' to the latest Tarak's 'Temper', film makers have attempted some variations but essentially retained the fight-against-the-system theme intact. Filmmaker Puri Jagannath and script writer Vakkantham Vamsi, add an element of 'redemption'. This theme though takes some time to kick in, breathes life into what otherwise would have been a routine film. Tarak's screen presence and his inspired performance, gives something for the audience to latch on to, when the movie treads a predictable path and or gets mired into sub plots. Rest of the support cast, do their bit, with Posani dominating the pack.
The movie's purpose would have been served better if the melodrama was toned down a bit.  For some strange reason, all the lead actors believe more in shouting than acting even when they are just a few meters from each other. Perhaps the only understated scene is where a teary eyed Tarak realizes his mistake and interestingly, that's the most crucial scene in the film.
Here are a few Movies and TV Shows, I was reminded of and something on them.
"Gangaajal (2003)",  "The Perfect Murder (1988)" and Udaan (1989) : Cops have tremendous power at their disposal, but they also need to adhere to a lot of procedure. Both these movie celebrate the procedure aspect.  Naseeruddin Shah attaches a studious-by-the-book layer to an investigative cop character, and goes about his job as a professional, while his Swedish counterpart marvels at it. Ajay Devgan, without hitting a high decibel, makes it look heroic, even when he asks his constable to give him a statement as to why he should not be suspended for the road-side corrupt acts. Udaan is a terrific portrayal of a woman police officer and her rise in the police force. Excerpt from Wikipedia on Udaan…"It was so refreshing to see a lady IPS (Indian Police Service) officer in Kavita Choudary's role that was not only humble, but also wanted to perform her work in letter and spirit by going to the public and placing the public's needs ahead of everything else, in the true spirit of a public servant".
"Zanjeer (1973)", "The Untouchables (1987)", "Ankusham (1990)", "Ardh Satya (1983)",  "Rakshana (1993), "Drohkaal (1994)", "Shool (1999)" and "Vikramarkudu (2006)": These films play on the anger and angst in the honest-loner cops when they are pitted against a corrupt system, often with little support from the department they work in. In "The Untouchables" a motley bunch of cops take on the might of Al Capone with an ageing constable leading the way, brilliantly played by Sean Connery who turns in an Oscar worthy performance. While Amitabh and Om Puri are easily the best of the lot in the Indian films, other actors like Dr.Rajasekhar, Nagarjuna, Manoj Bajpai and Ravi Teja, deliver noteworthy performances. Ravi Teja deserves a special mention, with his nonchalant yet fiery performance as the honest cop.
"Jaitra Yatra (1991)", "Abhilasha (1983)", "Training Day (2001)", "Pokiri (2006)" and "Avineethini Arikadadam (1987/88)": Quite a few movies have dealt with Inspector/constable, Expert/Rookie kind of relationship. In Jaitra Yatra, an honest constable is driven to the point of action by his superior's cruelty. Both "Pokiri" and "Training Day" explore the expert/rookie situations to take the story forward. In one of the episodes of  my father's TV show 'Avineethini Arikadam", a new constable takes on a corrupt superior at the behest of his wife. In Yandamuri's "Abilasha", a constable in the jail becomes a close friend to the hero and rescues him.These threads in a varied form make way into 'Temper' as well 🙂
Related Video- 'The Perfect Murder'- On Youtube