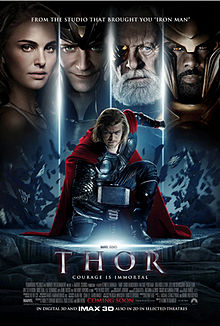 The first installment of 'Thor' that was released in 2011 makes a pretense of a story (around step-son and real son rivalry), aided by spectacles. 'Thor: The Dark World" comes out of this inhibition and focuses primarily on scale and special effects. And it delivers on these counts.
Each and every aspect of of 'Thor: The Dark World', from gigantic scale of the action and the sophistication of the visual effects to the production design and costumes, plays to the IMAX and 3D crowds.  With action shifting between the world of gods to that of homo sapiens, or 'realms' as the movie puts it, all the crafts come together well, to deliver a visual spectacle that keeps the audience interested throughout.
Accomplished senior actors like Anthony Hopkins and Rene Russo, manage to make their presence felt, with a few scenes thrown in just for that. Tom Hiddleston gets to play a character that has a blend of several archetypes, notably that of the Shapeshifter and the Shadow. He does well. Chris Hemsworth is adequate as he was in the first Thor. Natalie Portman?
In the end, one has to wonder at the ability of Marvel Studios to churn out one blockbuster after other, centered on comics-bred superheroes.
Here is an excerpt from a Forbe's article on Marvel
It's hard to think of anything in the history of Hollywood that compares to what Marvel is doing right now. The scope of the company's film and TV world just expanded with an announcement that Netflix has bought four live-action series and a miniseries to air starting in 2015. That's on top of a string of films, including The Avengers, which have grossed almost $5 billion at the global box office over the last five years. Marvel's latest film, Thor: The Dark World, has already earned $110 million overseas and is expected to top the box office in the U.S. when it opens this weekend with $90 million, according to Exhibitor Relations.
Here is the link to the complete article. Marvel's Magnificent Money-Making Machine