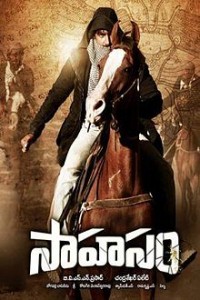 A hero ventures forth from the world of common day into a region of supernatural wonder: fabulous forces are there encountered and a decisive victory is won: the hero comes back from this mysterious adventure with the power to bestow boons on his fellow man – Joseph Campbell
Chandrasekhar Yeleti's 'Sahasam' pretty much sticks to Joseph Campbell's 'The journey of a hero'. The hero (Gopichand) in Sahasam, is a ordinary security guard, who sets out on an unknown journey to retrieve his long lost inheritance. His quest takes him to danger infested areas in Pakistan and the adventure begins.
Chandrasekhar Yeleti's screenplay allows enough time for Gopichand to build credibility for his character. The song during titles and the elaborate first fight add to Gopichand's heroism without deviating too much from the main plot.
Technically, 'Sahasam' is pretty decent effort with VFX topping the honors. Specially in the second half,  Chandrasekhar Yeleti, uses VFX well to create the ambiance and thrills. He , brings back fond memories of Telugu old films directed by the likes of Vithalayacharya, K.V.Reddy and also that of  Indiana Jones series. Overall, a good watch for the discerning movie lovers who enjoy a good combination of experimentation and entertainment.
Sri picks quite a many cues from John Williams musical score for Indiana Jones trilogy, including a literal copy of the John William's 'The Map room' score from "The Raiders of the Last Ark'
Raiders of the Lost Ark – The Map Room / Dawn