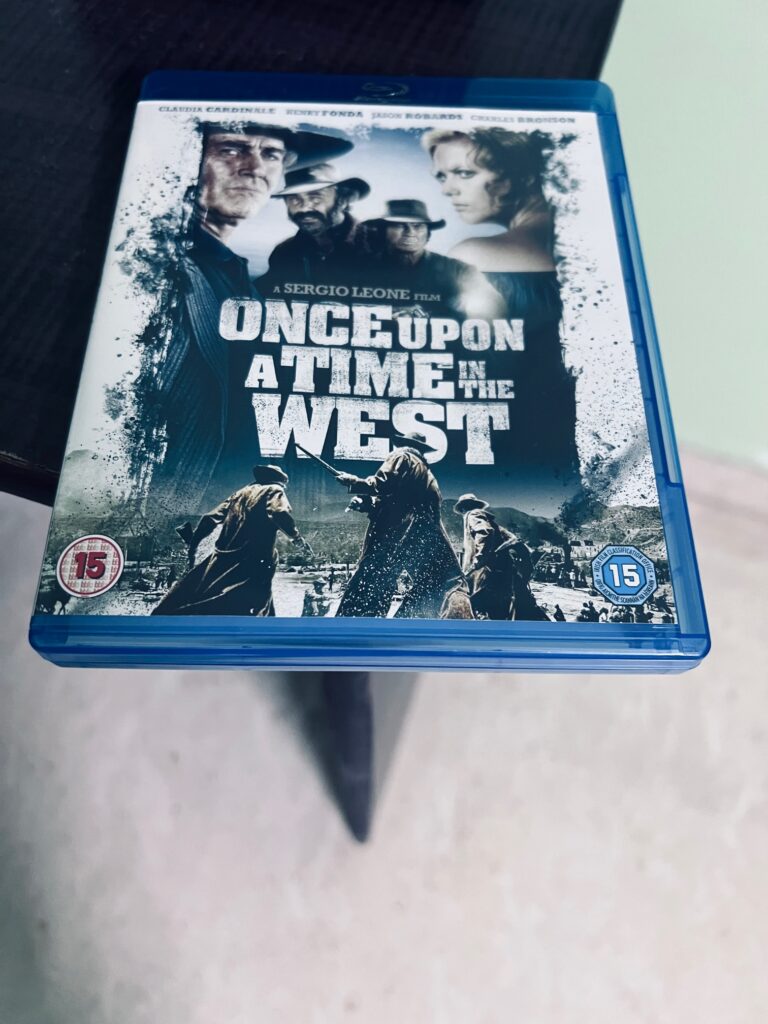 There are several interesting titbits in the feature documentary on the movie "Once upon a time in the West…" Here are a couple.
As per director Alex Cox, apparently, three stars from 'The Good, The Bad, The Ugly" were considered to act in it and the trio of Clint Eastwood, Eli Wallach and Lee Van Cleef were interested too…but had to refuse eventually as the parts they were asked to play were the baddies, who die after a few minutes into the film's proceedings. It would have been a complete reinvention of sorts for Sergio Leone, had it happened.
But the fact we know for sure (as per film Historian Christopher Frayling) is that the Ennio Morricone composed the music before the entire film was shot. This is not new to Sergio Leone of course, as he did something similar for parts of his film…like the cemetery scene and last duel in 'The Good, the Bad, The Ugly'.
With regards to Sergio Leone's movies, particularly 'Once upon a time in the West' there were comparisons made to Akira Kurosawa's style, and the slow pace associated with it. But just like any Akira Kurosawa's films, one cannot but help but to watch 'Once upon a time in the west…'from the start to finish. The movie holds its sway on the audience throughout.
Morton: How does it feel sitting behind that desk, Frank?
Frank: It's almost like holding a gun. Only much more powerful.
–Frank (Henry Fonda) and Morton (Gabriele Ferzitti)
Henry Fonda as a ruthless killer, doesn't make any changes to his appearance (upon the insistence of Sergio Leone, who shot down Fonda's ideas of contact lenses and beard to get in to the son-of-a-bitch kind of a look; in fact Sergio wanted his blue eyes look to stay intact to surprise the audience; apparently it was a one of a kind of Volta Face for an actor of his popularity in the Westerns.) Right from the introduction scene, he makes his presence felt and delivers a knock out performance. One of the reasons Sergio Leone returning to Western genre, after having to decided to call it quits, was an opportunity to work with his favourite actor, Henry Fonda.
Jason Robards as Cheyenne, Claudia Cardinale as Jill and Charles Bronsan as Harmonica are fantastic in their roles. The movie is a must watch for all movie fans, especially that of Sergio Leone, Henry Fonda and Ennio Morricone.
Tailpiece: The theme music associated with the character Harmonica, is a bit jarring and even feels like it is out of tune. May be this is because of the emotion associated with it, as revealed beautifully towards the climax. One could assume this as the inspiration of the gangster and mouth-organ connection in the RGV's movie 'Antham'(Telugu)/ Drohi(Hindi)
Related links

https://www.avforums.com/reviews/once-upon-a-time-in-the-west-movie-review.7250/
https://www.criterionforum.org/forum/viewtopic.php?t=2698&start=100
https://en.wikipedia.org/wiki/Ennio_Morricone
https://en.wikipedia.org/wiki/Once_Upon_a_Time_in_the_West
https://en.wikipedia.org/wiki/Antham
We are sorry that this post was not useful for you!
Let us improve this post!
Tell us how we can improve this post?