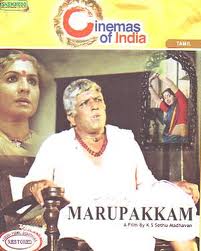 'Marupakkam' makes it an interesting watch mainly due to the extraordinary performances of the lead cast and very understated, yet haunting background score of L.Vaidyanathan. Infact, it was this background score that kept the memories of the film alive all these years, long after I first watched snippets of this film during a Doordarshan programme in early 90s. Thanks to NFDC's recent initiative to restore its  films and releasing on DVDs, I could get a copy of this film.
'Marupakkam' is the story of an old man who has to reconcile with his immediate and distant past before he departs from this world. While the immediate past belongs to his son and his son's estranged Christian wife, the distant past belongs to his first wife, whom he loved dearly, yet had to leave her due to his mother. It his interactions with four women told in several flashbacks with the characters of his son, son's friend and his second wife that form the elements of the story. Veteran actor Siva Kumar as the physically and mentally turmoiled person is outstanding.  Director Sethu Madhavan does a neat job of shifting the point of view from various characters. (Except for the son's friend character, which is sort of forced in to the narrative, all the other characters are etched out and blended unobtrusively into the story telling)
Once again, musical score of L.Vaidyanathan deserves a special mention and proves that silence is an important part of the score. Certainly one of his best works in the league of "Pushpak" (who can forget the car's musical horn and its various versions during the course of the film) and "Malgudi Days" (the title music and so on)
We are sorry that this post was not useful for you!
Let us improve this post!
Tell us how we can improve this post?