There's a scene in the movie, when joy and sadness…rather the symbols of joy and sadness are together.  Both of them try to figure it out…. how to save the main character from going downhill.
Simple at its best, this scene might have a thousand meanings and find an echo in several religions and schools of philosophy. The lead to this scene though , is not some maudlin train of thought about life, instead thy are the inner workings of the main character's mind.. .a small kid's mind. Yes, Pixar team does this unthinkable of making a child's mind the center stage of a movie,  to a delightful effect.
'Inside Out' has all  the trappings of a wonderful animation film–great quality of animation, terrific characters, super voice-casting etc etc.  But the real deal, is the story idea that blends science with emotion. All the concepts of core-memories, personality islands, memory dump, imagination land, dream factory, dark sub-conscious, train of thought, abstract thoughts etc are presented in an entertaining manner.  A must watch for any movie lover.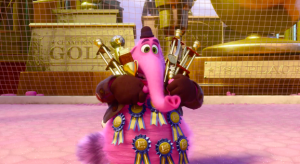 Tailpiece: Bing Bong is probably one of the best Hero characters ever, a-la terminator willing to slip into oblivion to protect her little friend.
Related Links
'Take her to the moon for me'
Inside Out: a crash course in PhD philosophy of self that kids will get first
The Science of 'Inside Out'
How 'Inside Out' Explains The Science Of Memory